Cardinal Financial News
Second Year Running: Cardinal Financial is a Great Place to Work®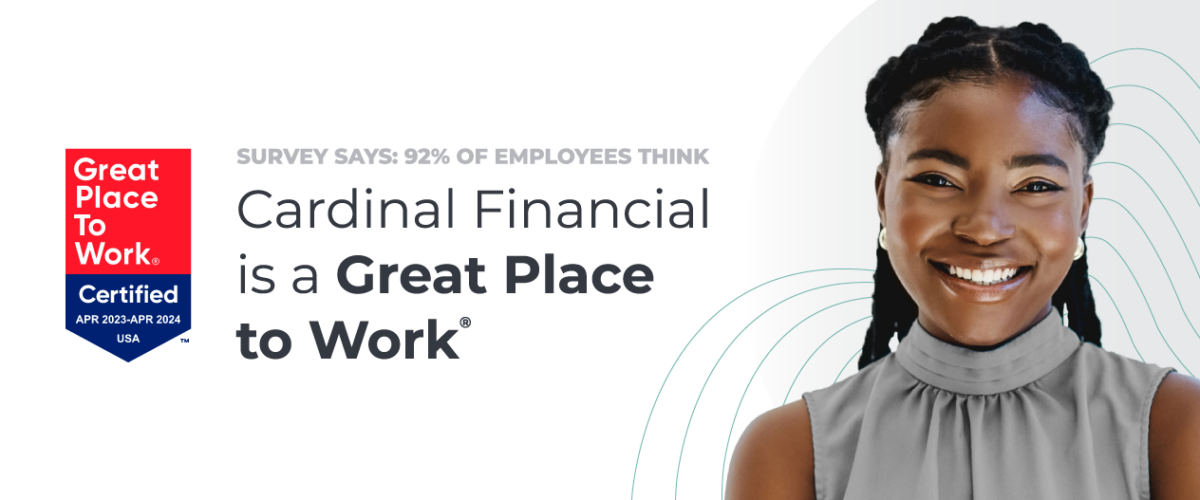 CHARLOTTE, NC – Cardinal Financial, a national mortgage lending company dedicated to empowering borrowers through every step of the home loan process, is proud to announce its second consecutive Great Place to Work® Certification. This honor reflects anonymous feedback garnered from over 1,000 Cardinal Financial employees across the country on categories relating to company culture and engagement.
"Work hard, design solutions, raise the bar—our company values guide everything we do," says Kelsey Webb, Human Resources Benefits Manager at Cardinal Financial. "For leadership, that means we're always looking for ways to make our employees feel heard, celebrated, and provided for. Because when it comes to getting people home, every single team member's role makes a difference."
Great Place To Work® is the global authority on workplace culture, employee experience, and the leadership behaviors proven to deliver market-leading revenue, employee retention, and increased innovation. According to Great Place To Work research, job seekers are 4.5 times more likely to find a great boss at a Certified workplace. Additionally, employees at Certified workplaces are 93% more likely to look forward to coming to work and are twice as likely to be paid fairly, earn a fair share of the company's profits, and have a fair chance at promotion. 
Among noteworthy feedback from the Cardinal Financial team, 92% of surveyed employees believe the company is a great place to work—in contrast to a typical company average of 57%. Employees also overwhelmingly agreed that:
They are proud to tell people where they work (94%)
They were welcomed upon joining the company (96%)
They are able to take time off when necessary (95%)
They are given the resources and equipment needed to do their job (94%)
Company facilities contribute to a good working environment (94%)
"Our goal is to give our people what they need to do their best work," says Hannah Zurn, Human Resources Business Partner at Cardinal Financial. "To earn this distinction for the second year running is confirmation that we're on the right track, and committed to putting in the resources to remain a great place to work as markets and careers evolve."
About Cardinal Financial
We started Cardinal Financial with a passion for developing a better mortgage experience. Our proprietary loan origination software, Octane®, is a sure advantage, but we soon found out that revolutionary technology only goes so far without revolutionary people. We place a premium on hiring talented, forward-thinking, entrepreneurial spirits who are committed not only to reimagining the possibilities of mortgage lending, but to delivering a personal experience to every borrower every time. We take a tremendous amount of pride in our people because they're what sets us apart from the rest. Our culture is strengthened by self-starters who look forward to coming to work every day and are willing to go the extra mile for their colleagues and their clients. Cardinal Financial is where your career meets your calling. Join us and be a part of something more than mortgage lending. For more information about Cardinal Financial, visit cardinalfinancial.com or follow us on social media: facebook.com/cardinalfinancial and @CardinalFinancial on Instagram.